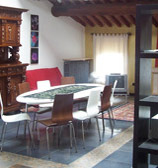 Villa Vinco
"Villa Vinco" Residence is a new structure obtained through the eighteenth-century villa's restructuring in Tregnago (Verona-Italy).
It's inserted in "Residence Verona" like 2º category, by the consent of "Regione Veneto".

Those who wish to stay in Verona, can billet and sleep in the peaceful "Villa Vinco" and, at the same time, can visit the fine city of Verona and its monuments.
Villa Vinco's guest can visit the Arena, the Roman Theatre, the monuments of Verona like the "Tomba di Giulietta", Piazza Erbe, Piazza Brà, S. Zeno churches, Sant'Eufemia, etc.
"Villa Vinco" Residence is 20 Km away from Verona, situated in a favourable position, near the Verona Fair, the "Lessinia" (mountains), the wine areas of "Valpolicella" and "Soave", but it is also near Venice, Gardaland and the Garda Lake.

The quality of "Residences Verona" and "Villa Vinco" is more free and indipendent than the other hotels and bed and breakfast of Verona because the guest can choose to cook, on one's own, using the kitchen, the dining room and the living room.
Besides, the guest can choose to eat in some restaurants or farms holidays that they have arrangements with Villa Vinco.
Besides,"Villa Vinco" Residence can serve as contact for groups of bicyclists who decide to make excursiones in the province of Verona, through tour itineraries (Lessinia, Garda lake and Gardaland).

Guests can also use the wellness centre services with fixed prices (the wellness centre is 3 km away from "Villa Vinco" Residence). The wellness centre is composed by sauna, turkish bath, hay bath, hydromassage, solarium, indoor and outdoor swimming pool, tennis, seven-a-side football, horse trips.
While the digging works for the garages were being done, archaeological discoveries were found such as roman and pre-roman coins dating back 300 b.c. From the original layout we created smaller flats for 2/4 people. A different decorative touch has been given to all flats, which are equipped with all kinds of comforts (tv set, internet connection, sat tv connection, safe, phone). Internal parking, taverna for meetings and open-air barbecue are at Yr. disposal.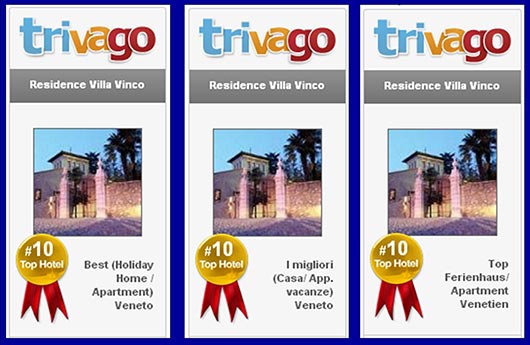 Residence "VILLA VINCO"
Via Roma, 27 - 37039 - Tregnago - Verona - Italy
Tel. +39 045/6500083 - Fax +39 045/6508728
E-Mail:
villavinco@villavinco.it
Immobiliare Castello SNC di Tosi Pietro & C.
Sede legale: via Roma, 24 - 37039 Tregnago (Vr)
C.F. e P.Iva 01947110233
REA Verona: 206691